I'm actually very late to the concept of plarn, but I'm enjoying learning a new skill.  I've never even crocheted until a couple of weeks ago, but I'd always wanted to.  I started with cotton yarn and dishcloths.  One in single crochet.  Another in double crochet.  A third in half-double crochet.  I was learning a new vocabulary at the same time!  But I was tired of square dishcloths.  How many dishcloths do you need, anyway?  So one evening, I was google imaging easy crochet paterns and found this, a little backpack with white trim.
http://www.myrecycledbags.com/2009/07/17/recycled-plarn-backpack-pattern/
I thought oh, cool, a little backpack – that'd make a nifty present for a niece.  Then I noticed it was with plastic bags.  Huh, plarn? I watched one of the many videos on how to cut the bags apart and chain them for knitting or crocheting.  I was hooked.  I'll never look at a plastic bag the same way again.
The benefit of coming to a craft two years after everyone else has discovered it is that there's HUNDREDS of patterns out there.  The typical stuff, naturally—totebags, pot scrubbies, purses.  But did you know you can make plarn soapdishes?  Plarn bracelets and coasters?  SHOES?  Yup, if you've ever worn those ultra comfortable Teva style sandles, there's patterns out there to make those with plarn too.  If you check out that website above, there's bunches of free patterns on the sidebar.  RecycleCindy simply Rocks!
So I started out thinking I was going to make a totebag, like this one:
http://www.myrecycledbags.com/2012/01/25/plarn-sunflower-tote-bag/
I had bunches of those khaki Kroger bags.  Then I started looking at plastic bags.  Plastic bags everywhere!  White ones, clear ones, pink and black ones.  And those newspaper delivery sleeves were such a nice shade of blue.  So I added in a few stripes.  Then I found this one online:
http://www.myrecycledbags.com/2008/04/04/messenger-bag-crafted-from-plastic-bags/
Ohh, a flap!  So when I got to the top, I kept going on one side and came up with this: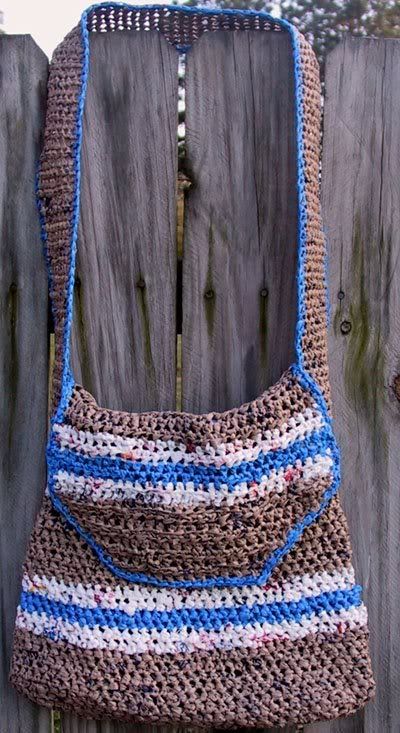 Next I think I'm going to try a net produce bag, with some pink yarn and white plarn.  🙂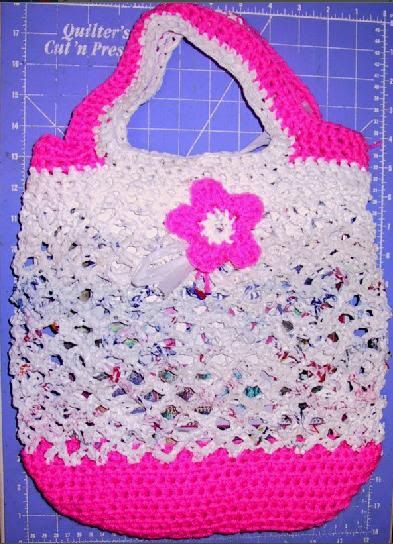 So I took my new plarn messenger bag to the store today, all proud to be contributing to the 'green' movement.  Told the girl bagging my groceries to put the heavy things in the big stripey bag, while pointing to the heavy jug of juice and bottle of V8.  Of course that's ALL she put in there until I told her to go ahead and put the other canned stuff in there too.  My checker was a guy, and was just astonished that I'd made it out of Kroger bags.  Almost speechless.  "Oh, Man, whoa!"  he kept saying.
I didn't notice until I took my groceries out of the van, at home in my driveway, that the bag had stretched.  I had forgotten that plastic crochet stretches and stretches and um… stretches.   I had gone overboard with the length of the shoulder strap. And the length of the bag itself. (I may not be a GOOD crocheter yet, but I'm certainly an enthusiastic one.) Even putting my head through the strap, the bottom of the bag, fully loaded, hangs well below my knees.
Here's a before and after shot.  In the picture on the right, the bag contains two cans of soup and three cans of tuna.  It was even LONGER with the jug of juice and the V8.  Know any tall basketball players I could sell it to?